Under Kitty Supervision
Your source for nifty hand stamped & crafted clocks, coasters & magnets
- all done with Lucy's help and paw of approval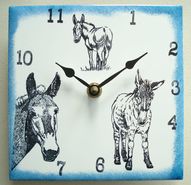 Even in today's digital age, it's nice to have a super-duper clock to hang on your wall or plunk on a table. All images have been rubber stamped and are protected with a spray finish. Perfect for the cat, dog or horse lover in your life (or for yourself, of course!). (And a few other critters thrown in as well!)

You can also custom order a clock - contact me for more info or click on this link!
---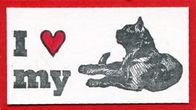 I have a TON of magnets - all with rubber stamped images on cardstock paper. Lots and lots of cats, horses, dogs and a few other critters in the "I (heart) my" range. About a bazillion in the Humorous Word Saying range. Okay, maybe not quite that many, but there's quite a few in that range. Check it out - you'll see what I mean. All magnets are shipped for free and if you purchase 3 or more, you'll get a 15% discount if you use the code "Multiple Magnets" when checking out. Cool!

---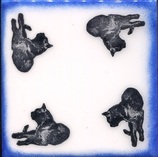 Lots and lots of coasters available for purchase. You won't find these at your local store nor will you find them mass produced. They're all created by hand, one at a time, covered with protective resin and finished with a cork backing. All images are from rubber stamps. I have lots and lots of different animals - I just picked a cat one due to the name of the business. (Gotta love those black kitties!)

CLOSE OUT on the coasters - all prices reduced to $2.00 each; once these are gone, that's it!
---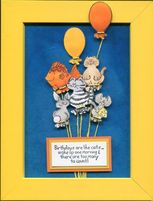 For something completely different, send a framed birthday greeting instead of a card or email. All images are hand stamped, colored and trimmed; all are one-of-a-kind - hours of work went into each frame. Stand out from the crowd with your birthday greeting/gift.

---